On average, the implementation teams realized greater than 50% time savings with Hexawise during the test planning and creation phases of their efforts. For example, within Guidewire Policy Center, the team assigned to the Defensive Driver Discount application analyzed the time spent during the test planning phase, documenting time spent using previous, manual methods, and time spent using the Hexawise approach: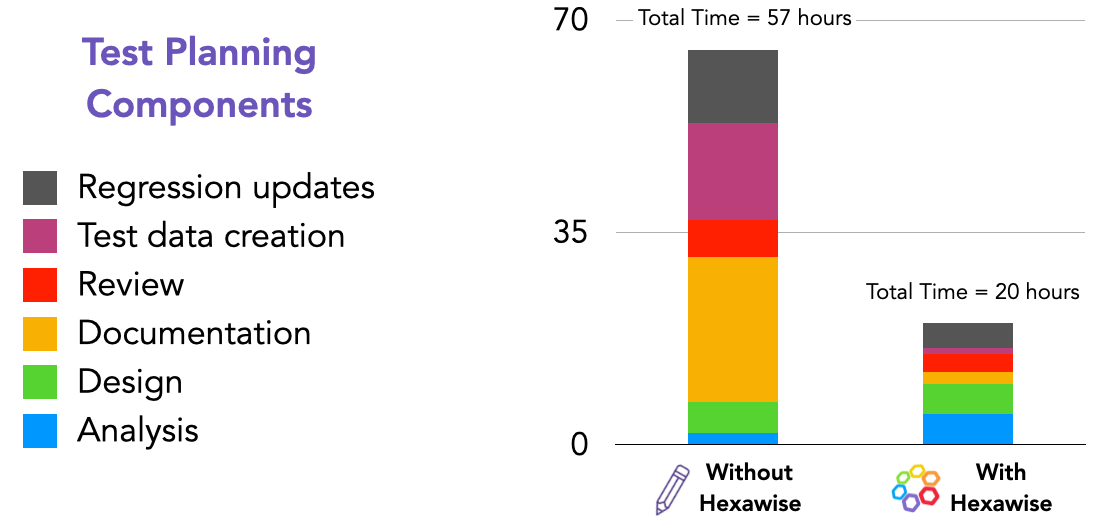 Although the team spent more time with Hexawise during the initial analysis phase (shown in blue), transformational time savings were achieved - overall, it took the team 65% less time to design and document better tests with Hexawise, which in turn led to a faster time to market for the end product.
This particular Policy Center team also analyzed increases in the amount of defects found earlier in the testing lifecycle with Hexawise, which ultimately was common across the majority of projects at the company: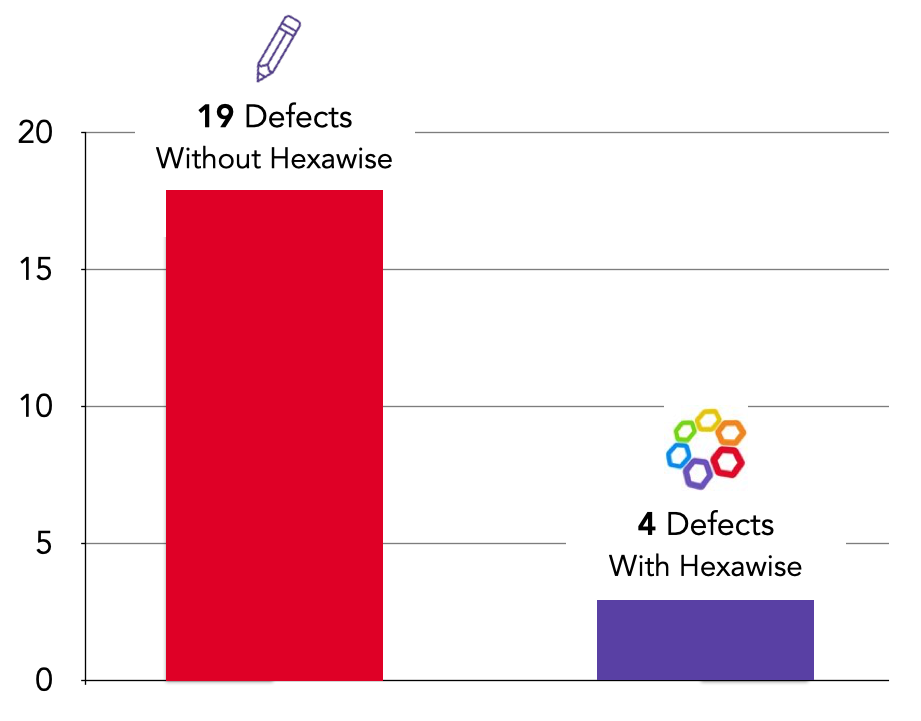 The team compared the defect finding effectiveness of "business as usual tests" to the Intelligently Augmented tests they generated using Hexawise. In project after project where defect-finding analyses were conducted, the results were identical: tests generated by Hexawise consistently found more defects. In this particular project, 19 defects found in production went undetected by the team's hand-selected test set. In comparison, running optimized Hexawise tests, only 4 of those defects slipped past the test set. The reason that the Hexawise tests were dramatically more effective than the hand-selected tests is that the Hexawise test set benefitted from Hexawise's famous Intelligent Augmentation which assured that every single critical system interaction was covered. The reason that neither test set was able to detect the final 4 defects is that they were triggered by variation ideas that did not appear in either set of tests. As soon as those ideas were identified and reincorporated into the model, they were immediately addressed - and those non-obvious variation ideas were automatically included in all future test sets generated for that system.
Although these are just two examples of the value realized with Hexawise during the major transformation, these benefits quickly spread throughout the entire replatforming effort, ultimately turning an originally complex and chaotic testing project into a systematic and thorough global quality engineering effort. All operating company systems were consolidated under a centralized, Guidewire Policy Center-based platform, ensuring all points of integration are tested as thoroughly (and efficiently) as scientifically possible.
"There is no way we would have been able to handle the magnitude of complexity for this company-wide transformation without Hexawise. Thanks to Hexawise, we achieved the coverage we needed in a much more manageable number of scenarios."